Craftsman Garden Tractor 917.276101
Also listed as a 917 276101 and 917276101.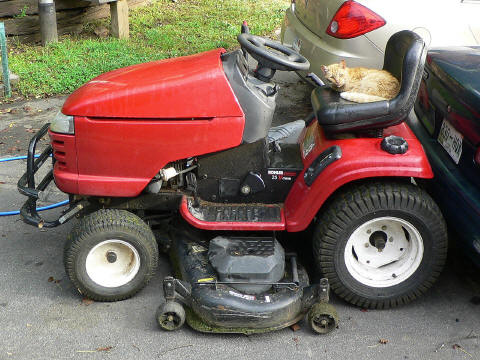 ---
Drive Belt Pulley Part Numbers
I needed to replace these v-pulleys and flat idle pulleys after 20 years or so and Craftsman does not list them together. They are scattered across several drawings on their website and the owner's manual.
I made this drawing for myself but thought that it just might help others as well so here you go!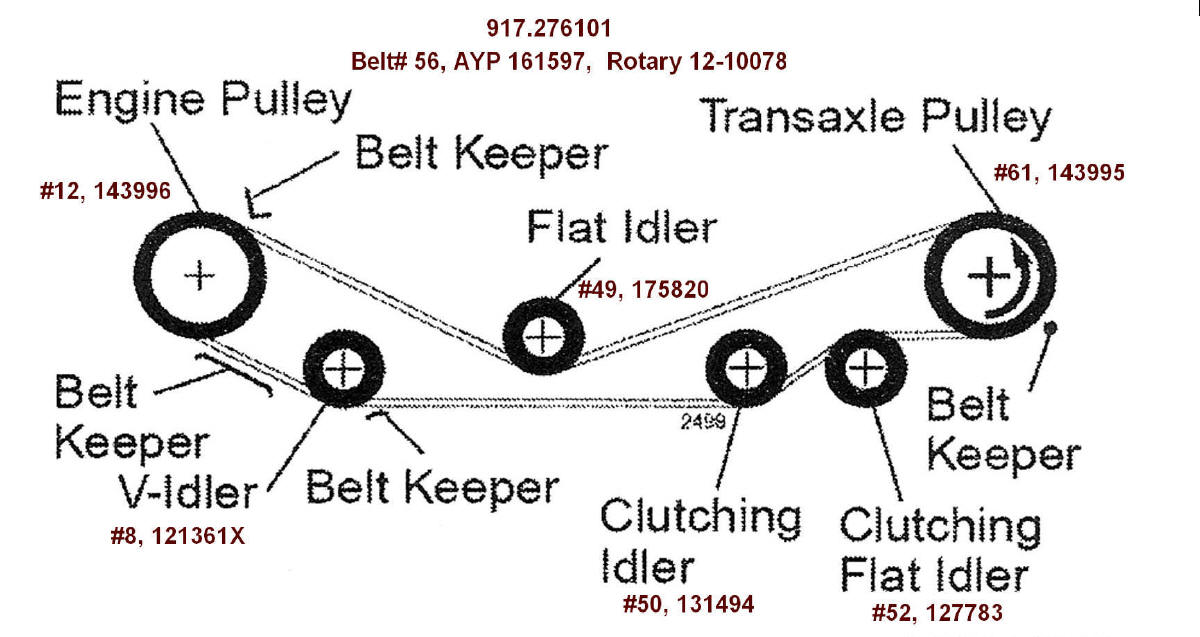 ---
Mower Part Numbers:
---
Specs:
HP: 25.0
Cutting Width: 54
Fuel Type: Gasoline
Fuel Capacity: 5.0
Oil Type Above 32 degrees: SAE 10W30
Oil Type Below 32 degrees: SAE 5W30
Oil Capacity: 4.0
Oil Capacity w/o Filter: 3.5
Oil Filter PUR L10241
Spark Plug: Champion RC12YC
Spark Plug Gap: .030
Forward Speed MPH: 5.8
Reverse Speed MPH: 2.1
Tire Pressure Front: 14.0
Tire Pressure Back: 10.0
Charging System AMPS: 15.0
Battery Amp Hours: 35.0
Battery Minimum Cold Cranking Amps: 280
Battery Case Size: U1R
Blade Bolt Torque: 55
Deck Belt: 191273
---
Accessories:
Model: 917.276101
Serial: 071304B004367
Accessories:
Source 917
Tractor 27610
Bagger: Stock 24917 (+) On this Tractor 917.248960
Snow blade 24414
Snow Thrower 24838 & 24831
Wheel Wt Standard 26234
Chains (E) 24868
Sun Shade 24230 +24240
Snow Cab 24276
Sleeve Hitch 24586
Mulch Kit 24154
24891 (bag) - two bin soft bag; Optional 3 bin soft bag (24892);optional 2 bin hard buckets (24897)
24903 (bag) two bin soft bag; Optional 3 bin soft bag (24904)
24916 (+) 24917 (+)- call 1-800-633-3522, ask for a 420974 kit (free of charge); throw away the two brackets that come with the bagger initaliy
(E) verify wheel size for chains
24445 is Small Quick Secure weight and can be used in place of 24434
24446 is Large Quick Secure weight and can be used in place of 26234
33742 mulch kit replaces 24142, 24242, and 24742
24838 & 24831 current snow thrower plus adapter kit for older Garden tractors prior to MY2006
---